News

June 2016
Very happy to say that my artwork 'Lion Prince' will be on display at the David Shepherd Wildlife Artist of the Year Exhibition 2016 at the Mall Galleries from 28 June - 02 July 2016. My 'Mud Packed Rhino' will also be on display via the portfolio. Both artworks will also be displayed in the David Shepherd Art for Survival Shop. 50% of sales will go towards Wildlife Conservation.
Also, I will be the featured artist in the 'Surrey Life' magazine, for the month of July.
Limited Edition Giclée prints are now available of 'Snow Leopard Gaze' and 'Juvenile Hyena' via my gallery page.
My latest project, following my time spent volunteering at the Elephant Nature Park (ENP) in Thailand, is to create artwork of some of their beautiful Elephants. The Elephants have been rescued from abuse in the logging and tourist trades and suffer with either mental or physical disabilities. I will be creating artwork and then donating the use of it to ENP for them to use to raise funds in their shop. All the money will go to help the Elephants they have and to help rescue more.
On returning from ENP I wanted to do something to help straight away. So I created t-shirts. These proved quite popular and I have more ideas. Please check the T-shirt gallery.
14 October 2015

My artwork 'Elephant Textures'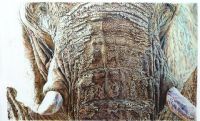 has been chosen as one of the winners in the Colored Pencil Magazine 2015 Art Competition and will be printed in the 2016 Calendar as well as being displayed in the magazine and on the website. This also means I win some art goodies!!



Recent News

I have had some successes over the last few months, including having Artwork, 'Snow Leopard Gaze' and 'Juvenile Hyena' exhibited in the David Shepherd Wildlife Artist of the Year Exhibition at London's Mall Galleries and 'Wait For Me' was on display at the Chelsea Art Society Annual Exhibition. I was also asked to join Artists Against Extinction, through which, any artwork sold, 25% is given to the Artist's chosen charities. My two charities for this occasion are The David Sheldrick Wildlife Trust and Thandi's Endangered Species Association.
07 June 2014
Just a quick update following my previous posting regarding Patching Competition/Exhibition 2014, my artwork, 'Sunlit Crane' can now be viewed on the Patchings website by following this 'Sunlit Crane' link. It is now open to a People's Vote, so if you like it enough, you can vote on it too.

22 April 2014

I am happy to say one of my colour pastel drawings, "Sunlit Crane" has been awarded a Highly Commended in the Patchings 2014 Competition/Exhibition. It will be published on the Patchings website from 05 June 2014.
24 January 2014

I have added 3 new images to the colour gallery. She Wolf, Hungry Eyes and Red Fox. The Red Fox is a drawing I have been planning for almost a year and now it's finally finished. They are all pastel on pastelmat. They are not currently for sale but there is an A4 canvas textured print currently available on Ebay of Hungry Eyes.

08 October 2013
I now have a selection of photographs from various travels available for purchase. They come in varying sizes and formats such as fine art prints, canvases, acrylic prints and greeting cards. The prints can be purchased with or without mounts and frames. Please feel free to have a look at my photography via Fine Art America.
19 July 2013
I am currently working on a new website due to the number of pet portrait requests I have received recently so, watch this space for news and a link when the website is up and running. I am also working on producing a blog so that I can regularly keep in touch with people even if it's just a snippet. Again watch this space.....
03 June 2013
Cat Tee Mission are raising funds for domestic and wild cats. I have donated the use of three of my drawings which can now be found on t-shirts etc in Australia, USA and Europe. Please have a look at their website, adult and kids t-shirts a
re available in a number of colours and you will be helping raise money for cats.
18 August 2012
The bidding is now open for the David Sheldrick Wildlife Trust auction. I'm very happy to say my drawing "Lean on Me" is Lot number 12. There are some amazing items up for auction and may they all achieve lots of £s or $s or any other currency as the proceeds go towards conservation.
28 August 2012
I have drawn, mounted and framed a very special drawing and have delivered it to the David Sheldrick Wildlife Trust. It will be auctioned at their first Harambee (Swahili for 'all pull together') Gala Dinner 2012 in London on 28 September 2012. The photographs used to produce this drawing, entitled "Lean on Me", were kindly provided by Jacqueline Deely. Jacqueline is a photographer based in USA.
Here's hoping it raises lots of £$£$£$ for the Trust. "Lean on Me" can be found in the black and white gallery, prints are available.
24 May 2012
Very pleased to announce my drawing, Tembo Tango, was Commended by the judges at the BBC Wildlife Artist of the Year 2012. It will appear in the August issue of the BBC Wildlife magazine on sale July 4th.
14 February 2012
I am currently working on an Elephant Calf drawing. I have kindly been given permission by a wonderful photographer, Jacqueline Deely, to draw from a photo she has taken. I am hoping to donate the completed drawing to the David Sheldrick Wildlife Trust for auction later in the year. I am really enjoying working on this piece. The photos are very detailed and with each layer completed, more seem to appear.
28 January 2012
I have added a new gallery to the website for Pyrography creations.